Andrzej Grabiec
Founding Artistic Director & Conductor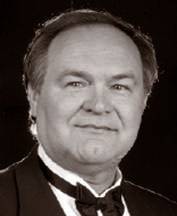 ANDRZEJ GRABIEC
Andrzej Grabiec started his international performing career at age eleven as a soloist with orchestras, participating in chamber music concerts, and conducting. After completing his studies at the Szymanowski Music Academy with highest honors, he became the youngest ever Soloist and Concertmaster of the famed Great Symphony Orchestra of the Polish Radio and Television in Poland. He is a winner of numerous prestigious international music competitions.
Grabiec has lived in the United States since 1979, and has held numerous prestigious positions as a performer, artistic director, and as a pedagogue. He moved to Houston in 1995, where he was Professor of Violin at the Moores School of Music of the University of Houston and Artistic Co-Director and co-founder of Virtuosi of Houston, the young artist chamber orchestra. Mr. Grabiec's performances continue to take him to important music centers in the United States and Europe, where he collaborates as soloist or chamber musician with many renowned international artists.
In 1999, the Government of Australia invited Mr. Grabiec to be Artistic Director of an extensive Olympic Arts Tour throughout Australia, New Zealand and South Pacific islands, where he played a dual role as violin soloist and conductor.
Grabiec has presented and recorded world premiere performances dedicated to him, including the Concerto for Violin and Orchestra "Seren" by American composer Peter Lieuwen and "Capriccio" by Houston's Dr. Robert Nelson. His most recent CD recording, released in 2012 on the Swiss label Metier, includes Piano Trio, Prolitheus Suite for violin, cello, and piano with artists from New York City and Italy. Other commercially released recordings include the Mendelssohn Violin Concerto with the American Sinfonietta, the Chopin Piano Trio, Piano Trio by Houston composer Michael Horvit, and a unique CD recording of Strauss' Don Quixote.
Grabiec made his Chinese debut in 2008 in Guangzhou, China, with an extensive series of master classes and a performance of Saint-Saëns Violin Concerto with the Xinghai Conservatory Symphony Orchestra conducted by Franz Anton Krager.
During the 2012–2013 season, Grabiec had two unprecedented performances in one season in New York City in the famous Weill Recital Hall at Carnegie Hall. These performances were met with very enthusiastic standing ovations from the audiences which demanded encores. Grabiec's future plans include several European tours as well as solo performances in the United States and in Mexico.