Kids Helping Kids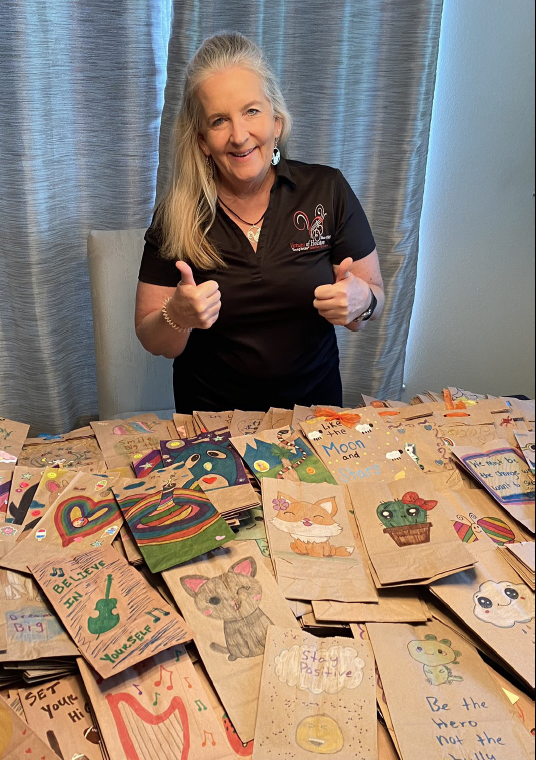 By SimplyMary
A Note from Karen Needham Director of Orchestra Operations
When Karen Needham, Director of Orchestra Operations for Virtuosi of Houston announced, "The Bag Decorating Project is ON!" an overwhelming response to help came from members of this premier young Artists Chamber Orchestra and their parents. The plan centered on decorating lunch bags for the non-profit organization, "Kids' Meals" thus brightening the lives of preschool children adhering to Houston's Stay at Home Order which closed schools.
"As Houston's schools closed, I saw how absolutely overwhelmed the Virtuosi musicians were getting: doing schoolwork, practicing instruments, attending online sessions with private teachers, and watching concerts virtually. They were staying away from friends not making music or socializing. I began researching ideas for a project to allow for a hands-on activity during this COVID-19 Pandemic, which would involve creativity away from computer screens. I found a Houston non-profit which needed help delivering meals to thousands of area children. Assisting them would give our musicians an opportunity to redirect their focus while giving back to our community in much the same way our program allows them to give back when they perform at concerts and private events. So, I proposed to the Virtuosi families that they could decorate bags for the Houston Kids' Meals program. I would see that the bags were picked up from their doorsteps and delivered to the appropriate place," comments Karen. "To my delight, the families were excited about the opportunity to use items in their homes to complete this project. The idea of families working together came at a perfect time."
Not only was this task quite relaxing, it was a lot of fun. Shelby Willis shares, "Any opportunity that we can use to expose our kids to do something for others, we are the first in line. Being contained to our homes has created a situation where we can't get out and think about everyone else. This project was fun for our family and it felt great to put a smile on a child's face."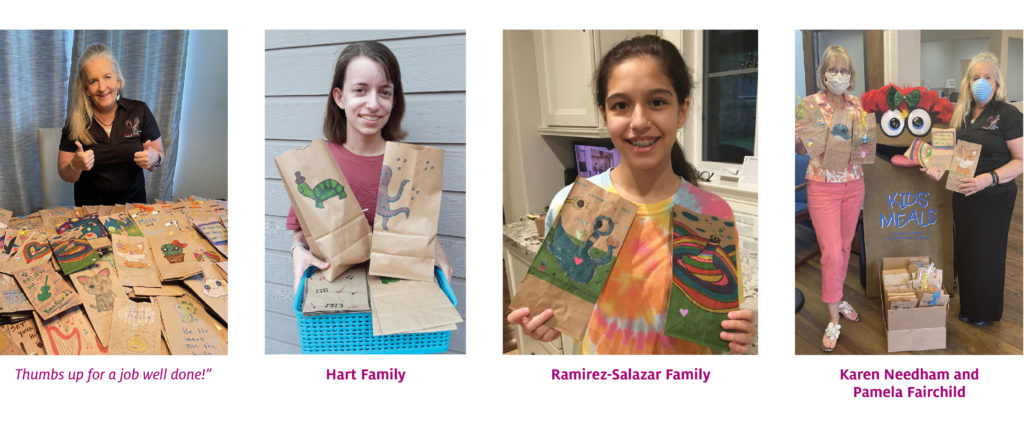 Giving families the opportunity to help the Houston community as they spent fun time together was welcomed by parents and students alike. Ava Cosse, member of Virtuosi of Houston, comments, "I enjoyed making the bags, I had a lot of fun with my mom. I was glad I was able to do something nice to make other kids smile through this tough situation."
"We also discovered that many of these musicians are very good artists," remarks Karen. The opportunity to do this community service, volunteering their time during social distancing allowed a connection which was appreciated by everyone involved. "As the decorated lunch bags were gathered, it is fun to see the great diversity in designs and the time families took to create such delightful containers," says Karen. "Yet, the true success of this project will be as these bags are put in the hands of the preschool students filled with food for their lunch. It makes me proud to know that over 600 of these amazing looking bags were designed by our orchestra families! Thumbs up for a job well done!" Creativity knew no bounds for these young people. Sarah worked with her sister, Lauren to come up with various designs drawing with markers or crayons, using stickers and even printing out fun mad libs to decorate some of the bags. A Virtuosi mother, Lisa Hart remarks, "Our family was happy to help in decorating lunch bags for the kids' meals program. My girls and I worked with different art supplies to create bags that will hopefully be fun for the kids to receive. It had been some time since I had seen Sarah drawing and it was great to see her creative bags and I even drew some of my standby doodles, ladybugs and flowers." The opportunity for parents and their children to be together working on a common goal was so positive.
This project also gave orchestra students a volunteer project allowing them to support their community in tangible ways while earning community service hours which is part of the structure of the Virtuosi Mission. It states, "Virtuosi of Houston was formed to create a pre-professional climate and performance opportunities for Houston's most focused young musicians (11 – 18 years of age), regardless of race, religion or financial status and to bring an expanded repertoire of chamber orchestra works to Houston audiences."
Between 50-60 musicians are able to participate in the chamber orchestra per session under the batons of Maestros Franz Krager and Andrzej Grabiec which makes it possible for each musician to experience increased confidence, leadership, responsibility and performance skills to move their own musical ability to a higher level. Receiving the decorated bags was Pamela Fairchild who is a Volunteer with Kids' Meals. She comments, 'Thank you Virtuosi of Houston for the beautifully decorated bags to Kids' Meals Inc.! The children get so excited to see what their bags will look like each day. They truly look forward to the little surprise of what piece of art will be wrapped around their lunches!'"
For over two decades, Karen has been involved with Virtuosi of Houston. This is not the first time she has seen the commitment and the generosity of Virtuosi Families exhibit extending beyond performing music. "These are unprecedented times with uncertain futures where a new normal is not yet clear. The kind of collaborations we all witnessed to bring this project to fruition will be key in moving forward and supporting the youth of Houston. The decorated lunch bags for Kids' Meals presents a beautiful example of just one way Virtuosi of Houston helps educate "kids to help kids" and I'm proud of our young musicians for their part in this outreach."